Description
NSK Ti Max X450L
NSK Ti Max X450L  – 45° Angle handpiece – Optic
Specifically designed for molars and wisdom teeth.
Solid titanium body.
45 degree angle head.
2 year warranty.
Available to fit the following couplings: NSK, Kavo, Sirona, Bien Air, W&H.
Unique 45-degree angled head provides incredible accessibility.
The slim-form Ti-Max X450 series possesses a unique 45-degree angled head specially designed to access hard-to-reach areas for sectioning and extraction of third molars and other impacted teeth. The X450's robust 21 watts of cutting power and effective cooling system – featuring triple water jets – ensure safe and effective treatment during a variety of surgical procedures.
Optic MODEL: X450L ORDER CODE: P1078001
45°head
The 45-degree angled head offers excellent accessibility and visibility during root separation procedures and the removal of hard tissue covering impacted third molars.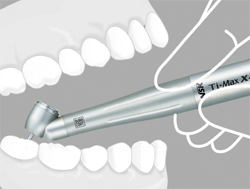 The more powerful NSK's original twin-nozzle head fully transmits the power of the air turbine to the X450's rotor, generating the high torque needed for powerful, consistent cutting.