Description
NSK Ti Max Z-SG45L
NSK Ti Max Z-SG45L 1:3 Speed Increasing Surgical Handpiece.
45 degree angled head – doesn't interfere with anterior teeth,  giving better access to the treatment area.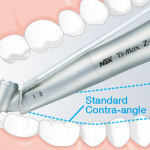 1:3 speed increasing.
Maximum speed 120,000 rpm.
Titanium body with DURAGRIP coating.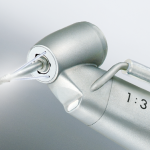 Triple water spray with external cooling. NSK's triple water jets efficiently cool the entire bur and because it is a solid water jet instead of water and air spray there is no risk of emphysema and safe surgical procedures can be guaranteed.
Anti heat system – unique head cap design to limit / disperse heat generation during treatment.
Available in either optic or non-optic.
3 year warranty.
Holding the handpiece in a pen grip when operating in the anterior region makes it very convenient to use adjacent teeth as finger rests and using burs of up to 25mm makes this instrument ideal for splitting roots.
Specifications
Gear Ratio; 1:3 Increasing
For; FG burs (Ø1.6)
Water Spray; Triple Spray / External cooling
Body Material; Titanium
Body Coating; DURAGRIP
Max Speed; 120,000 min-1
Features;
DLC Coating / Anti Heat System / Cellular Glass Optics (Z-SG45L) / Ceramic Bearings / Clean Head System / Push Button Chuck