Description
NSK Surgic Pro SGL70M Surgical Motor
NSK Surgic Pro SGL70M Surgical Motor for use with NSK Surgic Pro Optic or Surgic Pro non-optic
Brushless micromotor with 2 metre cord
SGL70M Optic E1023001 /  SG70M Non-optic E1025001
Motor Speed
200~40,000 min-1
Light Power
(LED Micromotor)
over 32,000 LUX
This new surgical micromotor is 16.2mm shorter and weighs 42g less compared to the conventional optic surgical micromotor.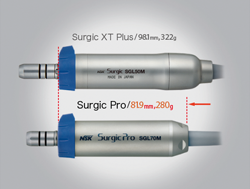 LED
LED illumination helps the clinicians to focus more easily on the treatment area and contributes to precise surgery
Clearer :
LEDs generate natural daylight quality light which gives clearer vision when compared to halogen light.
Durable :
LED light sources are longer lasting and more durable than halogen bulbs.