Description
NSK FX-57M
NSK FX-57M 4:1 reduction CA Prophy handpiece for screw in cups / brushes.
The NSK FX Series
FX57M's head incorporates NKS's original and exclusive dust proof mechanism known as the Paste Defense System.
This system prevents polishing paste debris from entering the handpiece and the DLC coating on the rotor prevents breakage caused by surface abrasions from the polishing paste.
These features help to significantly extend the life of the handpiece.
4:1 reduction for screw in prophy cups.
Up to 5,000 rpm.
Non Optic Model:FX57M order code C1054001
BUY 1 GET 1 FREE
Gear Ratio 4:1 Reduction
For Screw in cups and brushes / 360° Rotation
Body Material Stainless
Max Speed 5,000 rpm
Features
Paste Defense System
Access
The extra slim head and body design greatly improves direct and indirect visibility to the oral operational field. This includes increased visibility of even difficult access areas in the oral cavity.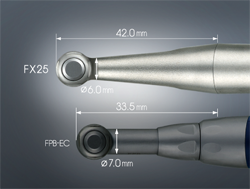 Paste Defence System
The prophylaxis handpiece head incorporates the unique NSK Paste Defense System which prevents dust and polishing paste debris from entering the handpiece. In addition, the NSK DLC coating on the rotor prevents possible breakage caused by surface abrasions from the polishing paste. These are some features that illustrate extended FX handpiece durability.(FX57/FX57m)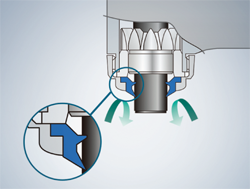 High Precision Gears
The high-precision gears run quiet and are supremely durable, which also reduces uncomfortable vibration